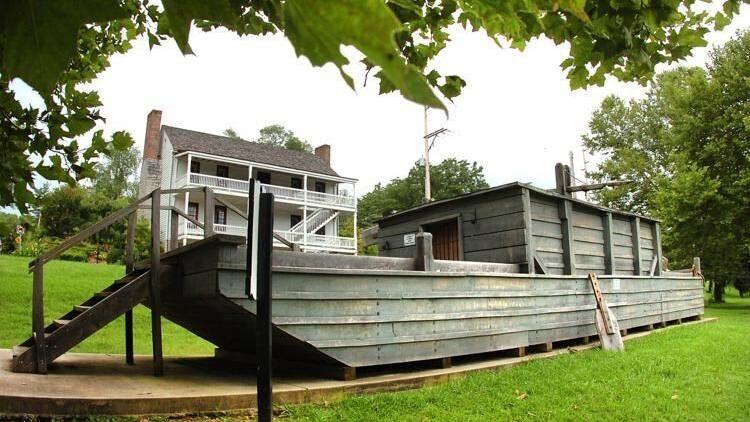 A Christmas of 1818 returns at the Netherland Inn |
KINGSPORT – The Netherland Inn and Boatyard National Historic Site will celebrate the Christmas holidays with friends and family like Margaret and Richard Netherland did in 1818.
An 1818 Christmas at the inn will take place from 6 p.m. to 8 p.m. on Friday and Saturday, December 10 and 11, and from 2 p.m. to 4 p.m. on Sunday, December 12.
The event will feature beautiful decorations, hot cider, special treats and lively seasonal music.
The Lone Oak Bluegrass Band will provide music at the inn on Friday evenings; the Hillbilly Hippies (formerly Poplar Hill Reunion Band) will perform on Saturday night; and harpist Martha Painter will entertain on Sunday afternoon.
You can visit the reproduction of the Bank Barn Museum to enjoy the music of Howard and Pam Osborne on the hammered dulcimer on Saturday night.
On Friday and Saturday evenings, Camp John S. Mosby's Civil War reenactors, Sons of Confederate Veterans, will play living history characters and interact with guests while recounting the region's role in the war. Be sure to stop at the Daniel Boone Hut to see some beautiful decorations and warm up by the fire place as you make your way to the hostel.
Tickets for the event are $ 10 per person (children under 6 admitted free with a paying adult) and are available at the door or in the visitor center booth in the parking lot during the event. No advance ticket sales are available and no reservations are required. Parking is available on the lot behind the inn or on the grass field on Lilac Street.
Plan to attend this holiday celebration now to enjoy the beautiful all-natural decorations from the 1818 period designed and provided by Kingsport Garden Clubs and Netherland Inn volunteers, to taste special treats and to listen to music from season.
The Netherland Inn is located at 2144 Netherland Inn Road, Kingsport.
The Netherland Inn Association is a completely voluntary organization. All proceeds from this event and others go towards the maintenance and restoration of the Netherland Inn and Boatyard as well as additions to the historic campus. As well as being the birthplace of Kingsport, the Netherland Inn and Boatyard is the only National Register of Historic Sites site to have been both a shipyard and a stagecoach stop.
For more information, please call (423) 677-3263 or visit www.TheNetherlandInn.com.