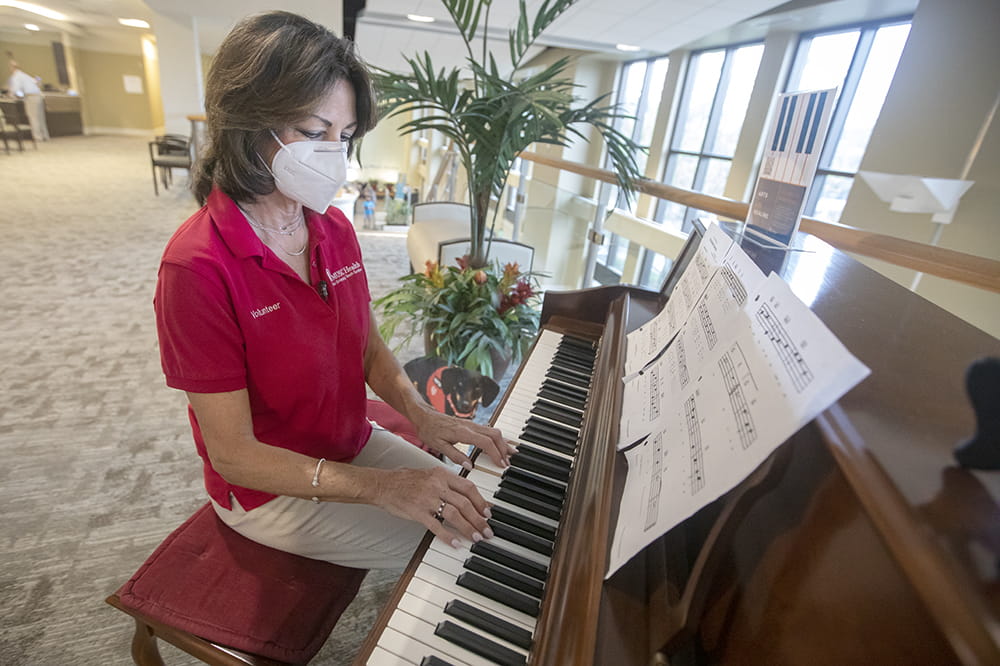 A volunteer turns the loss of a pet into a musical gift | MUSK
"When people say 'Stop and smell the flowers', I say 'Stop and listen to the music'", says Meg Mauro.
His fingers move lightly up and down on the piano keyboard; the soft sound that descends from the open second floor to reach patients and staff in the first and second level waiting areas of the MUSC Health East Cooper Medical Pavilion in Mount Pleasant. She hopes the music can soothe stressed or worried patients.
Mauro spent more than three years visiting patients, but she was always accompanied by her miniature dachshund, Beasley. She and Beasley were part of the pet therapy team and volunteered at both MUSC Health and Roper St. Francis. At MUSC Health, they spent much of their time sitting with cancer patients receiving infusions. Beasley was even honored as a healthcare hero in 2020.
Sadly, Beasley passed away last fall. He ruptured a disc, a fairly common problem among dachshunds, and was quickly paralyzed. Mauro was devastated by his death.
"Not only did I lose my dog, which I loved, but I lost something I loved to do," she says.
She knew she wanted to continue to nurture her connection with employees and patients. But she didn't know how.
As it happens, her husband bought her a small grand piano in the fall to replace an old upright piano. She had taken lessons in her youth with the encouragement of her mother, but ended up giving up. Later, as a mother herself, she started taking classes again when her own children started. She played on and off after that, but this big baby kept her going.
"I thought, 'OK, I'm going to take it up a notch and become worthy of this piano,'" she says. "So I played a lot and tried to learn new styles and songs."
And she found she could still volunteer at MUSC, with the Arts in Healing team instead of the pet therapy team. University Hospital, Ashley River Tower and Hollings Cancer Center all featured pianos in their public spaces, but the East Cooper site did not. Mauro started thinking about how to get a piano there.
Maria Vinson, office manager for MUSC Health East Cooper, immediately embraced the idea.
"My family is made up of many musicians, including myself, and we have always considered music to be therapeutic and a 'path to the soul'. With music, you can express so many emotions without speaking a single word. , it's such a powerful gift! When I learned that Meg was planning to bring a piano to MUSC Health East Cooper, I was thrilled and humbled," Vinson said.
"However, when I heard the news of Beasley's passing and how this music donation would not only benefit the patients, but would also aid Meg's healing process after the loss, I dedicated myself to assisting her in her efforts. in every way."
After securing a promise from Fox Music that she would carry a piano if she could get one, Mauro launched a call on social media for anyone interested in donating a piano.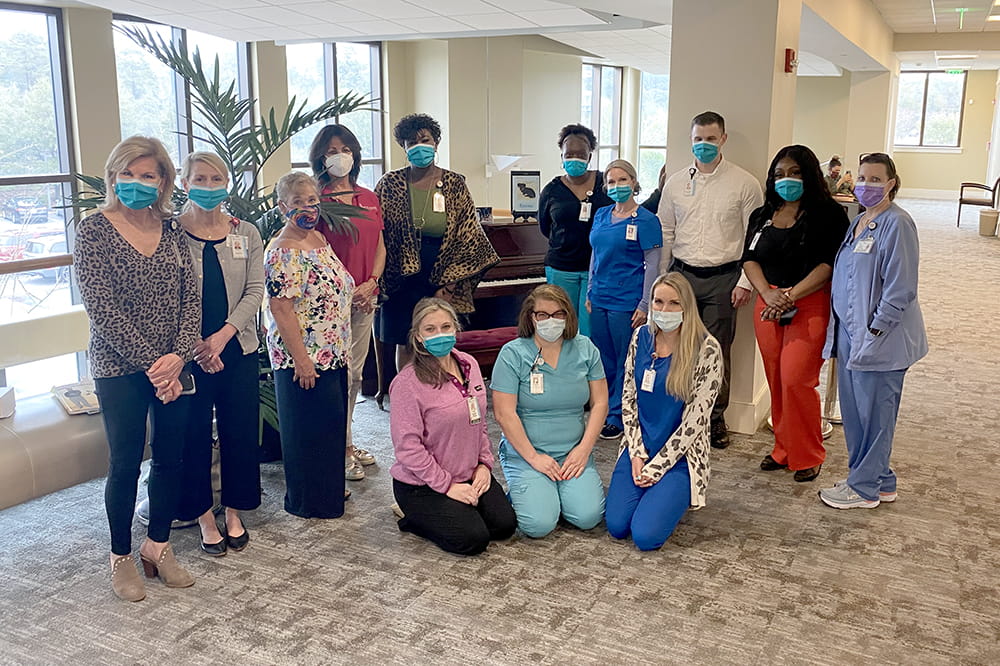 She got a response from Wendy Sharp – who, as it turned out, not only lived in Mount Pleasant, but was practically around the corner from Mauro.
Sharp had an unused piano sitting in her spare bedroom that she was keeping for her daughter. Eventually his daughter, a NICU nurse in Greenville, admitted it was unlikely she would have room for a piano anytime soon and gave Sharp the go-ahead to donate it. .
"One night Meg's message popped up on my screen and I knew this was the perfect place for it (an answered prayers), if she wanted it," Sharp said.
Sharp's piano was in good condition, and Sharp and Mauro agree that an unplayed piano is a sad instrument. Donation and transportation were quickly arranged.
"I'm grateful it all worked out and I pray that anyone who hears Meg play or plays her themselves will find peace and comfort through her music," Sharp said.
After the piano was safely installed, Mauro, Sharp, Katie Hinson Sullivan, director of Arts in Healing, and facility staff members gathered for an opening ceremony on March 10. Mauro got a bit choked up as he told the story of Beasley, which is commemorated with photos atop the piano.
Mauro comes to the establishment one day a week to play – although, in reality, she could play endlessly if she had no other responsibilities.
"I could do it all day, every day – I love it," she says.
Vinson said the staff were grateful to have such great music in the facility.
"We can never fully encapsulate how lucky we are to have our MUSC volunteers and so many wonderful people who give their time and resources to our organization, but the difference they make every day speaks volumes. . We are so thankful for all they do.