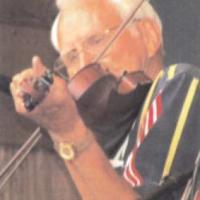 Blue Ridge Music Induction March 26 | News
The Wilkes Heritage Museum in Wilkesboro will host the 14th Annual Blue Ridge Music Hall of Fame Induction Ceremony on March 26, featuring live performances.
The 2022 inductees are Jim and Jesse in the Nationally Known Artists category; The Blue Sky Boys, Pioneer Artist category; Rodney Sutton, Dance category; Arvil Freeman, Sideman category and regional artist; Randall Hylton, Songwriters category; MerleFest, Special Contributor, Promoter and Organizer category; and Ernest Johnson, Dr. TR Bryan Wilkes County Heritage Music Award.
Ernest Johnson of Wilkes County has been a lifelong bluegrass and fiddler for over 60 years.
Johnson grew up in a musical family in Millers Creek. His mother played the clawhammer banjo, his father played the French harp (harmonica) and banjo, and his brothers played the mandolin and banjo in a two-finger picking style. "I grew up with this music and I love it," he said.
Johnson made his living building furniture, but took time out for music. "I was working all week and playing music on the weekends," he said. "We could get together and train during the week, but we played every weekend." He played with musicians like Tal Holbrook, Drake Walsh and Jim Shumate.
He played bluegrass, old-time, country and western swing. "I really love playing all kinds of music," he said.
Johnson has played/jammed at every MerleFest, including fiddle workshops for the Acoustic Folk Society in the Jammin' Tents for the past few years. He took part in several studio recording sessions, including an album with the Key City Boys and a track with Wendy Lewis, when he joined bluegrass fiddler Ricky Simpson.
MerleFest was founded in 1988 in memory of Eddy Merle Watson, as a fundraiser for the Wilkes Community College Foundation, and to celebrate what Doc Watson, who was Merle Watson's father, called "more traditional" music. .
Doc defined it as the traditional music of the Appalachian region, "plus whatever other styles we were in the mood to play. From the beginning, the college people and I agreed that the music at MerleFest is "more traditional".
MerleFest, one of the nation's premier music festivals, takes place every spring at the WCC. MerleFest 2022 takes place from April 28 to May 1. The event serves as an annual homecoming for musicians and music fans and kicks off the festival season. As part of a family event, drugs and alcohol are prohibited.
The festival hosts around 100 artists each year on 13 stages during the four-day event. It also offers children's activities, workshops, demonstrations and sales of regional artisans, various other vendors and more.
MerleFest raises funds for scholarships, capital projects, and other educational needs at WCC. It is also the main source of funding for many voluntary organisations.
Jim and Jesse McReynolds were raised in a family of traditional musicians in the mountains of Wise County, Virginia. Their grandfather recorded for RCA in Bristol, Virginia in 1927.
Jim and Jesse had an exceptional harmony that some said only brothers could produce. Jim's enhanced high tenor, combined with Jesse's deep lead and unique mandolin style, set this duo apart in the traditional music world. Jesse has developed a unique style on the mandolin. Jim and Jesse and their group, the Virginia Boys, had numerous hits on various labels beginning in 1952.
"Cotton Mill Man", "Diesel On My Tail", "Are You Missing Me", and "Paradise" are examples of Jim and Jesse classics. In the late 1950s and early 1960s most of their weekly live radio and television shows were sponsored by Martha White Mills and were inducted into the Grand Ole Opry in 1964.
Both brothers were diagnosed with cancer in 2002. Jesse survived but Jim died on December 31, 2002.
Randall James Hylton was born and raised in mountainous Floyd County, Virginia. He learned to play the guitar at the age of 5, and by 12 he had written his first recorded song. He continued to write and his music has been performed and recorded by bluegrass greats such as Lester Flatt, the Lewis family, the Bluegrass Cardinals, Doyle Lawson, Ralph Stanley and The Country Gentleman,
Hylton has written hundreds of songs, including "Cold Sheets of Rain", "Once and for Always", "Gonna' Be Movin'", "Slippers with Wings" (co-written with his sister Wanda Dalton), "Mountain Laurel " and "Room at the top of the stairs. »
He was a five-time recipient of the Bluegrass Songwriter of the Year award, in addition to being named Guitarist of the Year by the Society for the Preservation of Bluegrass Music in America. He died in 2001 and was posthumously inducted into the Virginia Folk Music Hall of Fame in 2018.
The Blue Sky Boys, consisting of Hickory brothers Earl and Bill Bolick, made their radio debut at an Asheville station as part of the Crazy Hickory Nuts in 1935. Earl and Bill soon went to RCA Records in Atlanta , looking for an audition as the Bolick brothers. Shortly after signing with RCA, they changed their name to the Blue Sky Boys in honor of western North Carolina.
Their first record, "Sunny Side of Life", coupled with "Where the Soul Never Dies", was an instant hit. Between 1937 and 1941 the band recorded around 100 songs for RCA with considerable success on the hillbilly music circuit.
Between 1941 and 1946, the two brothers served in the army and after their release they returned to recording with RCA. They occasionally played live at folk festivals in the 1960s, stopped in the late 1960s, and resumed recording and touring in the 1970s. Earl Bolick died in 1998 and Bill in 2008.
For 28 years, Arvil Freeman, a Madison County native, fiddled with the Stoney Creek Boys of Asheville at Shindig on the Green, the Mountain Dance and Folk Festival and Friday night square dances in Montreat. He helped preserve regional fiddle traditions by passing on knowledge to award-winning students.
His long relationship with Asheville Mountain Dance and Folk Festival founder Bascom Lamar Lunsford began when Lunsford took the young Freeman on a tour of the Midwest in 1946.
He turned down offers to tour with music greats and instead played with the band Marc Pruett for 14 years and later with 40 West at Bill Stanley's Barbecue and Bluegrass in Asheville while living in Weaverville.
Freeman has won numerous first place titles in top violin competitions and has appeared frequently in documentaries and on public television. He was one of five fiddlers (along with Benton Flippen, Audrey Hash Ham, Red Wilson and Josh Goforth) to represent the variety of traditional fiddle styles on UNC-TV's "Folkways" series. Freeman died aged 89 in 2021.
Rodney Sutton joined the Green Grass Cloggers in 1972 after being told by its founder that he "would never clogger". He stuck to it and shared his love of patching with thousands of people teaching in workshops across the country for five decades.
Sutton is best known for his flowing flatfooting – a percussive dance style that was the precursor to today's clogging. He is a caller, musician and storyteller. He has performed and taught in the United States, Canada, Ireland, Scotland and England. Sutton also produces, manages and hosts outdoor festivals and concerts. He was director of Joe Shannon's Mountain Home Music Concerts in Boone from 2014 to 2021.
The Duplin County native has performed and taught at many MerleFests and other festivals.
In 1985, Rodney was selected by Mike Seeger to be included in the Smithsonian documentary video, "Talking Feet". He is an adjunct professor in the Bluegrass, Old-Time and Country Music program at East Tennessee State University, where he teaches traditional dance.
Blue Ridge Music Hall of Fame house band Virginialina, consisting of David Johnson, Eric Ellis, Scott Gentry and Scott Freeman, are scheduled to perform throughout the evening.
Performances by T. Michael Coleman, Cliff Miller, Ronnie Black, Rodney Sutton, Glenn Bolick, Carol Rifkin, Bryan McDowell, Sheila Kay Adams, and more are also scheduled.
Coleman, a 2020 Blue Ridge Music Hall of Fame inductee, will serve as this year's emcee.
Tickets for the event are on sale at the gift shop or on the Wilkes Heritage Museum website. Tickets are $20. Doors open at 6:45 p.m. and the ceremony begins at 7:30 p.m. The seats are limited.
Event sponsors include the City of Wilkesboro, Marilyn Payne, Arnold and Rebecca Lakey, Main Street Music and Loan, Jim Beaver, Brame Huie Pharmacy, A-1 Self Storage, Carolina in the Fall, Law Offices of Timothy D. Welborn, Kirk Gunton, Ann Showalter, George Childers, Nancy Watson, Designs by Whitley, RG Absher, Surrey Bank & Trust, Hampton Inn-Wilkesboro and Holiday Inn Express – Wilkesboro.
A press release said the purpose of the Blue Ridge Music Hall of Fame is to showcase and preserve the musical heritage of the greater Blue Ridge Mountains region, from northern Georgia to northern Virginia. It educates, defines and interprets the history of music in the region with exhibits, an annual inductee celebration, performance recordings and an interactive database.
For more information about the Wilkes Heritage Museum and the Blue Ridge Music Hall of Fame, please call 336-667-3171 or go to www.wilkeheritagemuseum.com.