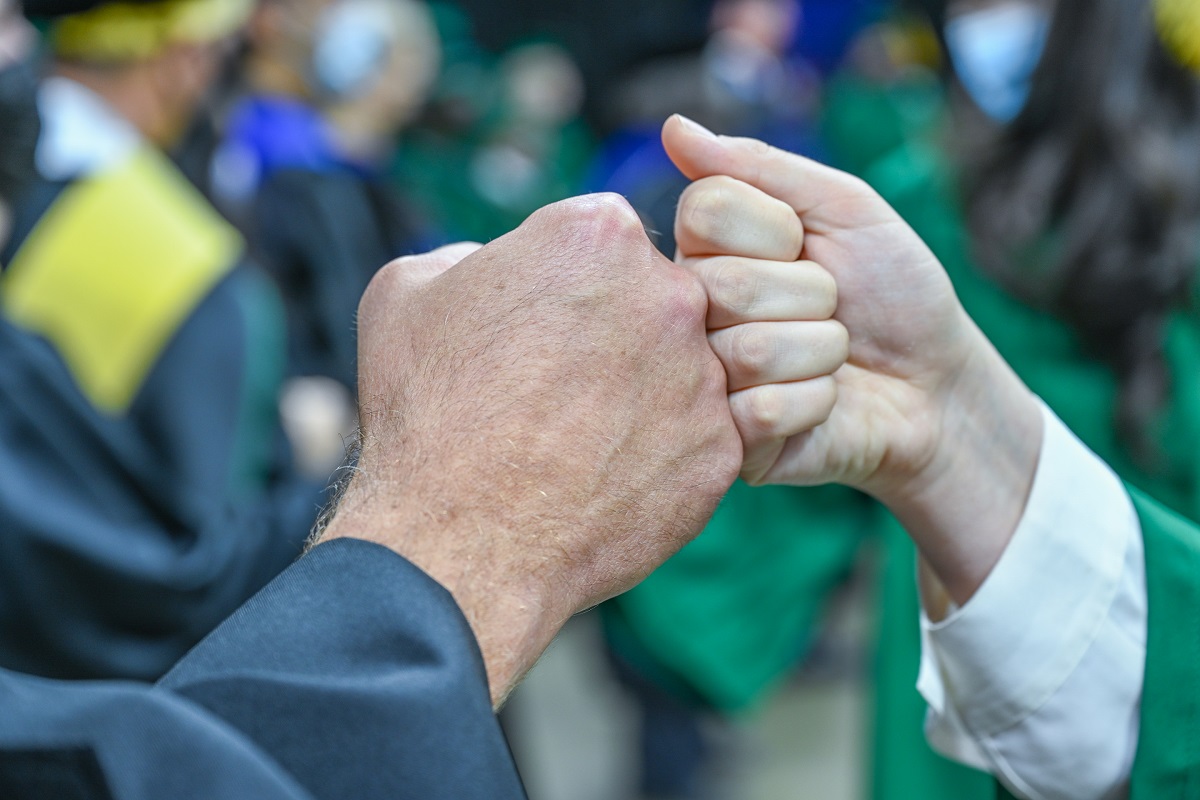 Fall Semester Graduates to be Celebrated at Five Ceremonies | MSU Today
U.S. Senator Gary Peters leads a group of five highly accomplished people who will address graduates at the fall 2021 launch ceremonies from December 17-18 at the Jack Breslin Student Events Center. This is the first time that MSU has organized five ceremonies for a fall semester.
"I couldn't be more proud of these graduates," said President Samuel L. Stanley Jr., MD. "Over the course of a few particularly difficult years, these Spartans have persevered to obtain degrees that will greatly improve their careers and their lives. With their talent, energy and commitment, as alumni, they will make a great contribution to their communities and to the world.
Peters will speak to masters graduates and education specialists at 11:30 a.m. on December 17. He will also receive an honorary law degree. Later today at 3:30 p.m. Celeste Clark, MSU graduate and former senior executive at the Kellogg Company, will speak to PhD graduates. She will also receive an honorary degree in the humanities.
Since all 2021 summer semesters graduates have had the option of attending in September or December, there will be three college-based baccalaureate ceremonies.
Dec. 17 at 7 p.m. – Colleges of Agriculture and Natural Resources, Lyman Briggs, Natural Sciences and Nursing will be addressed by Amy Yoder, who has over 20 years of experience in the agriculture industry. She will also receive an honorary degree in agriculture.

Dec. 18 at 9 a.m. – Colleges of Arts and Letters, Communication Arts and Sciences, and Social Sciences will be tackled by one of the nation's leading religious freedom authorities, Douglas Laycock. He will also receive an honorary law degree.
December 18 at 1 p.m. – Craig Menear, Managing Director of The Home Depot, will speak to Colleges of Business, Education, Engineering, James Madison and Music as well as the Residential College in Arts and Humanities. He will also receive an honorary degree in commerce.
For the safety of participants, no bags or purses will be allowed in the Breslin center for the launch ceremonies. Cameras and camcorders are permitted, but cases are prohibited. No food or drink, including bottled water, will be allowed, and this applies to graduates, guests and faculty. The Breslin Center will offer a limited concession menu during the ceremonies. Other prohibited items include noise makers, selfie sticks, pets, signs, and weapons of all forms. The Breslin Center is smoke-free.
Metal detectors will screen all participants, so please plan accordingly. For safety reasons, all persons are required to wear appropriate face coverings inside all campus buildings and other MSU facilities in East Lansing and throughout the state.
The events will also be broadcast live and can be viewed via MSU launch website.
The speaker biographies are listed below in alphabetical order.
Celeste Clark

Clark is the principal of Abraham Clark Consulting, LLC, a health policy and regulatory consultancy firm, which consults on health policy, regulatory affairs and leadership development. Prior to that, she spent over 30 years with the Kellogg Company, retiring as Senior Vice President of Global Public Policy and External Relations and Director of Sustainability. Clark was also Chairman of the Kellogg Corporate Citizenship Fund, Kellogg's philanthropic entity, and was responsible for Kellogg's corporate social responsibility initiatives focused on community engagement, economic development, the arts, education, health and well-being. She is an Assistant Professor in the Department of Food Sciences and Human Nutrition at MSU.
Clark received a Bachelor of Science degree from Southern University, a Master of Science degree from Iowa State University, and a Doctorate of Food Science from MSU College of Agriculture and Natural Resources.
Douglas laycock

Laycock is considered the country's leading authority on religious freedom law and the law of redress – the law of what the winner of a lawsuit gets and what the court can do to resolve the legal issue. Laycock has taught and written on these subjects for more than four decades at the law schools of the University of Chicago, the University of Texas, the University of Michigan and, most recently, the University of Virginia where he is Robert E. Scott Distinguished Professor of Law. He is a fellow of the American Academy of Arts and Sciences.
Laycock received a Bachelor of Arts from MSU and was a fellow of Honors College. He received a law degree from the University of Chicago.
Craig menear

Menear is President and CEO of Home Depot. During his more than 20 years with the company, he has held positions spanning merchandising, supply chain, store operations, sourcing, marketing and online. Prior to joining Home Depot, he held various positions in mass distribution, home improvement centers and specialty retail. In addition, Menear sits on the Board of Directors of the Retail Industry Leaders Association, the Atlanta Committee for Progress, 3DE by Junior Achievement of Georgia, and Camp Southern Ground.
Menear received a Bachelor of Arts from MSU Eli Broad College of Business. In 2017, he received the Distinguished Alumni Award from MSU for his business achievements and commitment to philanthropic initiatives.
Gary Peters

Peters has represented the State of Michigan in the United States Senate since 2015. He has also served in the United States House of Representatives, Michigan State Senate, and Rochester Hills City Council, as well as as Commissioner in the Michigan State Lottery. In addition, Peters has worked in the private sector for over 20 years as a financial advisor and has held various executive positions with two large financial services firms.
Peters received a Bachelor of Arts from Alma College; an MBA in Finance from the University of Detroit Mercy, an MA in Political Science from Wayne State University, an MA in Philosophy from MSU, and a law degree from Wayne State University. He also served in the US Navy Reserve where he graduated from the College of Naval Command and Staff, US Naval War College.
Amy yoder

Yoder has served as President and CEO of Anuvia Plant Nutrients, a manufacturer of improved efficiency fertilizers for the turf and agricultural industries, since 2015. Prior to that, she held key positions at Arysta LifeScience, Monsanto and Spectrum Brands and has served on the board of directors of CropLife America and RISE (Responsible Industry Sound Environment). In 2018, Yoder was selected by the i4 Business Women's Inspired Leadership Awards as the 2018 winner for "Spirit of Innovation". This award celebrates six nominees who are proven business leaders in Central Florida. She also received the MSU Biosystems & Agricultural Engineering 2016 Distinguished Alumni Award.
Yoder graduated with a Bachelor of Science in Agricultural Technology and Systems Management with a specialization in Crop and Soil Sciences, from the MSU College of Agriculture and Natural Resources.