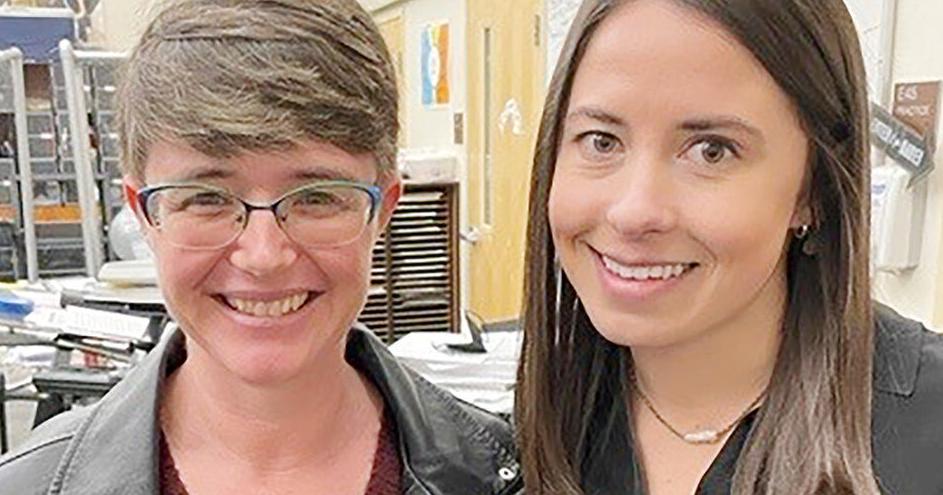 music Verrado, group director wins the teacher's award | News
Tracy Meldrum, Music Director and Band Manager of Buckeye's Verrado High School, has been selected as February's Star Teacher by law firm Phoenix Burch & Cracchiolo PA
Meldrum has been at Verrado since it opened in 2006 and has grown the group's program from nine to 96 members, competed in over 70 competitions, 13 state championships and six state finals.
Meldrum graduated from ASU in 2006 with a bachelor's degree in music education and earned a master's degree in instructional leadership from NAU in 2019.
"I was quite surprised. I was just a little shocked and surprised, and then I thought it was so cool because I can buy things for the band, and it's exciting to be able to have funds that I can just throw into the program without having to go through a ton of paperwork," Meldrum said.
The award comes with a $500 check that can be used for anything the music program needs that is not covered by the school budget. Verrado receives an additional check for $250 which can be used at the director's discretion.
"It might sound silly to people who might not be involved, but I'm really excited to have drumheads. They're really expensive and we need a lot of them," she said. "We don't really have a budget per se for that, so it would be nice to replace some equipment, like my concert bass drum which we never replaced. There's the original head on it, and there's a small tear in it now. It's good to have funds for all this now.
Meldrum was nominated by Chris Panneton, whose three children were part of his band program. Panneton's youngest child is a freshman at Verrado.
"Tracy has the talent to cultivate a respectable program with her love of music, sense of humor and advocacy for children," Panneton said. "She encourages the confidence of her students to express their passion for music and accepts anyone who shows interest, even if they have no experience. Tracy builds confidence by focusing on student strengths, listening to individual needs, and nurturing camaraderie, creating an environment where students feel welcome in the Viper Vanguard family.
Meldrum said she feels lucky and privileged to be part of the program's growth since the high school opened.
"It's been a huge growth process," she said. "It gave me a chance to really become the music educator that I want to be, and it was really fun to see how the program developed and to see how the kids help and nurture each other. others. And they also help foster that growth. And that's just a really fun thing to be a part of and look back on.
Meldrum said one of her favorite memories dates back to about five years ago when she took the band to London to perform in the New Year's Day Parade.
"We got to travel all over London and see some really cool sights, and being able to do that with the kids in my group was really, really a treat," Meldrum said.
Ahead of the state concert festival in April, Meldrum said the entire band was excited to compete after last year's virtual competition.
A Valley teacher is chosen each month to receive $500 through a nomination process on the company's website. Nominations are accepted from students, alumni, and parents who wish to honor and thank a teacher who has had a profound impact on their lives.
Applications are open to all K-12 teachers teaching in Maricopa County. Winners will be notified and then presented with a check to their school by a member of Burch & Cracchiolo.
To apply go to bcattorneys.comclick on "Nominate a featured teacher".