Recording with… Head Over Heels and Kimberly Akimbo Star Bonnie Milligan
Milligan can currently be seen in the world premiere of the new musical Other world at the Delaware Theater Company.
This week Playbill sat down with Bonnie Milligan, who recently starred in the Atlantic Theater Company's staging of the new musical Kimberly Akimbo and will transfer with the production to Broadway in the fall. The actress made her Broadway debut in Crazy in Lovewinning a Theater World Award and nominations for Drama League and Outer Critics Circle Awards. Milligan also played Pat on the first national tour of naughty boots, and his Off-Broadway credits include Walk; God bless you, Mr. Rosewater; Gigantic; and Jasper in Deadland. She has recurring roles as Katherine Witherbottom on HBO Max's To research Party and Bitsy on Showtime Escape at Dannemora and was also seen on Chicago Fire and happy.
Milligan is currently starring in the world premiere of Other Worlda new musical [title of show]'s Hunter Bell and Jeff Bowen at the Delaware Theater Company through March 20. Adrienne Campbell-Holt directs the new work, which includes a book by Bell and music and lyrics by Bowen and Ann McNamee and co-stars Jamen Nanthakumar.
Recording with… Dear Eva Hansen The star Zachary Noah Piser
What does your typical day look like now?
I wake up and eat breakfast while reviewing my script and notes. Then I take a daily COVID test and head to the theater. We've been in preview so most days have daily rehearsals before our evening show. During the dinner break, I go back to the hotel to cook dinner and maybe catch up on some Netflix, before heading back to the theater for the show! After the show, I go straight home and relax with a bit of TV and maybe a bubble bath.
Can you describe what it was like to be back in a rehearsal room the first day you and the company got together?
To be back in person was truly surreal. I had to zoom in to repeat our first two weeks of Other world due to overlap with Kimberly Akimbo performances at the Atlantic Theater. With the omicron surge, we were all trying to be as safe as possible and not mix up pods. When I came to rehearsal in person, it was so surreal to be working on such a big new musical with this fabulous cast, turntables and puppets! I started my journey with Other world six years ago in 2016, and I've been in so many readings, workshops, and labs that finally getting to work on a full production was incredibly emotional. I was so excited to meet my new cast members and begin the journey of building our own momentum and bonding. It's a very special group of artists who bring this story to the Delaware Theater Company.
Tell me a bit about the role you play Other World.
Lorraine is the non-player in our story. His father, Will Houston, was co-creator of a video game called Other World, in which we find ourselves sucked into the spectacle. Unfortunately for Lorraine, she has very complicated feelings about her father and his game, which he spent much of his childhood on and very little time with her. She's funny, dry and strong – a total survivor and a proactive force to try and escape the game before it's too late.
Are there any parts of your role or the musical that seem particularly poignant/relevant following the events of the past two years?
Much of life has gone virtual over the past couple of years. We found ways to connect with each other in our isolation, and I think we learned the power of that connection, even through computer screens. Our players start the show with these virtual connections and find the joy and power of being in person and connecting in other ways. As for my personal connection to Lorraine's journey that might seem relevant, it is her journey in choosing forgiveness and love. So many deep hurts and past pains can cause us to miss the blessings around us. Realizing that we can learn from each other and respect someone with a different experience and perspective can be incredibly powerful.

What would you say to viewers who might feel uncomfortable about returning to live theater?
I understand things sound scary, but what's absolutely amazing about the Delaware Theater Company is that they've taken every precaution to create a safe space to create art and enjoy it. We take great care to ensure that the space is safe for everyone who enters. And the theater is so soothing that I think it will help your heart in these troubled times.
In this time of reflection and re-education on artists and the art of BIPOC, especially in theatre, what do you want people (those in power, other artists, the public) to be aware of? What do you want them to consider further?
Hopefully we can come back after closing with a greater focus on uplifting voices in all areas of theater. We need people represented on both sides of the table. Change from inside and everywhere. Writers, directors, designers, producers, cast and crew. Great art can come from hearing lots of stories and points of view, and we've had a long history of one type of voice making all the decisions. I hope the audience can understand how much better art would be if we heard more people and saw more humans on stage of different identities and sizes. Let's make the scene more like the world.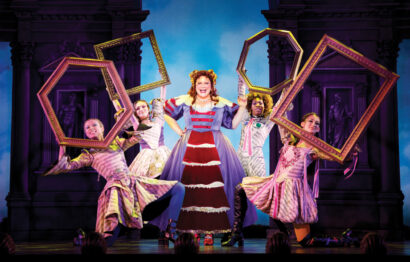 What advice would you give to someone who may be struggling with isolation and/or current unrest?
Find ways to connect where you can. I found that speaking my truth and admitting when I struggle showed me the true beauty and kindness of those friends around me. Connection helps us feel less alone and overwhelmed.

What, if any, have you learned about yourself in the past two years that you didn't already know?
I learned that I was much stronger than I thought. They were two incredibly difficult years filled with loss, anxiety and fear. I got into roles that I hadn't had before and succeeded.
Which organization would you recommend people learn more about or donate to during this time of change?
With everything that's happened in Florida and Texas and all of the states regarding the rights of young LGBT+ people, I would encourage people to donate to the ACLU, an organization that actively fights against these inequalities and attacks on the vulnerable.
Recording with… Tina—the Tina Turner Musical Star Natasha Yvette Williams