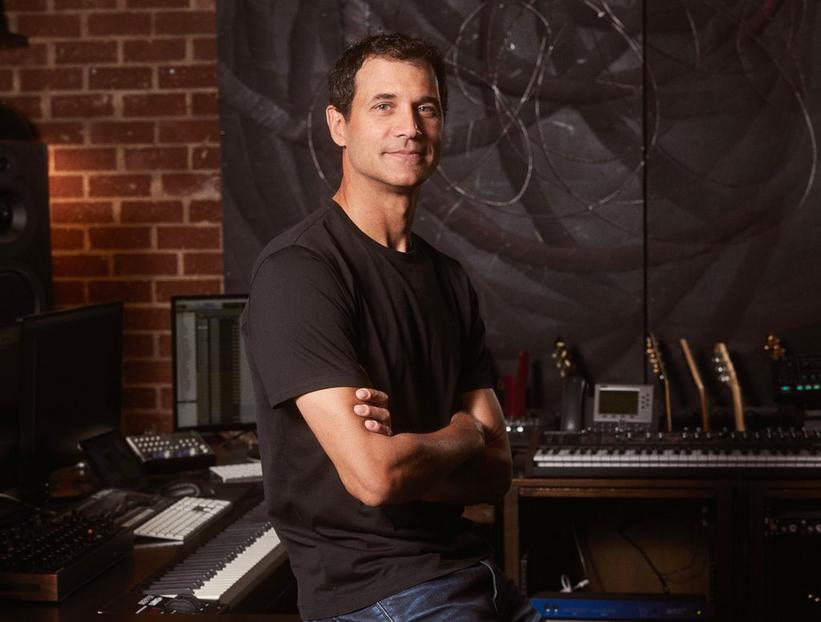 If you're a fan of high-profile TV and blockbuster movies, you've probably heard the music composer's works Ramin Djawadi. The two-time Emmy Award winner and three-time GRAMMY nominee has composed scores for 'Westworld,' 'Iron Man,' 'Eternals,' 'Uncharted,' and dozens of other famous shows and movies, and more. coming. But those who have traveled to Westeros know Djawadi for his opus: it's true, he is the man behind the music of "Game of Thrones". .
Today, the sonic call to arms is given a second life as the central theme of 'House of the Dragon' – the latest installment in George RR Martin's 'Game of Thrones' universe, set 200 years before the events of the original series.
A musical chameleon – who has collaborated with mega talents like Hans Zimmer, Wu Tangit is RZAand Rage against the machine guitarist Tom Morello – Djawadi has returned to compose music for the highly anticipated prequel series, which wraps up its first season this Sunday on HBO. Ahead of the finale, GRAMMY.com spoke with the composer about creating musical cues and themes for Westeros characters, his love of '80s metal, and the possibility of a live concert experience." House of the Dragon". The discussion below contains minor spoilers.
This interview has been condensed and edited for clarity.
Earlier in your career, you collaborated with Hans Zimmer on "Pirates of the Caribbean: The Curse of the Black Pearl." Did your experience working on this score influence your later work? And what did you learn from him?
Working with Hans has been absolutely amazing. He has been such a good mentor and friend. Thinking back to that time, I was fresh out of college and felt ready to become a composer. But I hadn't realized how much more there was to the role than just writing, which is hard enough.
By working closely with Hans, I got to see his organizing process and how he works with collaborators and organizes meetings. Obviously, there's a lot of music to write and keep track of, and you also need to stay on top of recording sessions. To be able to see that on a massive project like "Pirates" was amazing.
You talked about the decision to use the main GoT theme for "Dragon House" to keep the shows connected. Are there plans to compose an original HOTD theme for future seasons?
Honestly, at this point, there haven't been any talks about Season 2 yet, so it's too early to tell. For the first season [of HOTD], the decision was made to use the theme to tie the show to "Game of Thrones", which hasn't aired for some time. It was meant to make a statement about connecting these shows and giving that overall theme. That's how we've always seen the original theme in the episodes of "Game of Thrones": it belongs to everyone. It sums up the movement of the series, which is why the decision was made to keep it for the new series.
Where do you find inspiration for the different ideas and musical motifs in the series? What are some of your benchmarks?
Number one, talk with the showrunners, Miguel [Sapochnik] and ryan [Condal]. They guided me through the show because they understand where things are heading. So I followed that very closely when I set up a theme. And then they'll be like, "Listen, later on, it has to be able to do that. And it can be mysterious but also epic?" So I pay close attention to their advice.
I'm also very inspired and influenced by visuals. When I get the episodes – even if I don't write on the picture – I like to have the episode in the background. Seeing these incredible costumes and sets – it all inspires me.
You recently revealed that you were a metalhead when you were younger. Did this genre influence your work on this series or on GoT?
[Laughs] Absolutely. I won't deny it. Rock and metal have always been a big part of my influence. As a teenager, I had long hair and was a guitar shredder. I was inspired by all these great 80s metal bands: Metallic, Anthrax, Killer; I can go on and on. Metal has had a great run throughout this time. There was one amazing group after another.
The genre really influenced my writing. In fact, when we did the second "Game of Thrones" tour, my wife suggested adding a guitar to the mix. And I actually pushed back, but she said put that tail on and play the guitar. And I did and I thought, Oh my God. And I realized how guitaristic the lines were and how well they fit the guitar, so we did that part of the show. A lot of the stuff I write translates well to guitar.
Although the genres seem disparate, I have heard that there is a connection between classical music and metal.
You are quite right. When I was a teenager I was playing all this rock stuff, there were all these neo-classical guitarists, like Yngwie Malmsteen, for example. He went from rock and metal to classical music. And I played that all day. I will take Paganini songs and play them on the guitar. This type of crossover was popular at that time. The guitarists played Bach pieces on the guitar. So there is definitely a link.
Can you talk about the process of scoring a scene for the show? Is there a pre-briefing or discussion?
This is called a scouting session. I sit down with the showrunners, Miguel and Ryan, and we watch the whole episode together. Then we decide where the music should start and where it should stop. And then we talk about those moments. What theme could we use? What should the mood be?
Sometimes we go into detail, and sometimes we don't. We have to find the right instrumentation when there is a turning point, so that they give me more inspiration and direction. And then I write all the music and create these digital demos, which I play for them. Then we'll look at the picture together with the music and see what works and what doesn't. Do we need to modify it further or not? Once we all agree on the music, I record it.
It is important to emphasize that this is a collaboration. I don't just write what I want. The showrunners have a clear vision. For example, they knew that we were going to take the piano again at the end of the first ["House of the Dragon"] episode. It's always been a great thing to use the piano in GoTand we didn't until the sixth season.
So now that we introduced that piano sound, might as well drop it in the first episode [of this new series]. It's a crucial point in the plot, so we decided to use it. So I write the piece on the piano and then play it for the showrunners. They might have thoughts, but they might not. Ultimately, it's a collaboration, and you want everyone to like it, so you have to explore that together.
How do you determine which characters get a theme or multiple themes?
That's an excellent question. It just happens organically as we progress through the episode. Some are more obvious than others. In an episode, Rhaenys, Alicent, and Viserys may need themes.
Or Rhaenyra, for example, there is several themes for her it just happened to come out of different scenes. As there is one that is more of an emotional theme for her. Then there's the other one with the voice in episode 3 when she go back to camp. It's fun to combine them, depending on what the story does.
As a viewer, I love how both series' musical cues are always unfolded with such precision, at the right emotional moment. And I noticed how the absence of music in certain scenes can trigger deeper emotions. How do you and the creatives decide when a scene or moment can benefit from a cue and when to hold back?
I feel like it's very hard to do. And again, this all happens in the scouting session, where you decide where the music should and shouldn't be. But we polish until the very end, when the show needs to be finalized, because most of the time when we're discussing the music, the visuals aren't finished. Visual effects, sound effects. Everything happens in parallel. So sometimes you end up doing what we call overvaluation, where you put too music in the show. When the visuals come together later, you realize, "Wow, now that the final sound effects are here, let's stop the music because the dragons are so loud." We don't need music here to make up for them.
You make these decisions until the very end. And it's always difficult to get the right balance. I think it's done really well in 'House of the Dragon' and 'Game of Thrones'. Like you said, sometimes not having music can be more powerful than playing something because music always makes things better. Sometimes not improving a scene can make it more awkward, scarier, or more emotional.
When composing the music for a scene, do you give priority to synchronizing the sounds with the actions and movements or to creating a mood?
For this particular show, we generally focus on capturing the mood rather than synchronizing with movement. It's more about telling stories with the thematic material. These are largely larger strokes. And that's always what worked very well for the series.
Rhaenys' grand entrance during the coronation features one of my favorite musical moments from the show so far. You took us from celebration mode to pure chaos in an instant. Then the music syncs up as Alice's eyes close, and there's no doubt everyone on that stage is toast – but our expectations are subverted. What went into the creation of this epic piece?
It's a big, big moment. And it's a good example of a time when we were playing with the balance of sound effects – where not to have music and where to throw it in and take it out when you think they're all going to die now. I actually dropped the "main title theme" a bit because historically that's always what we've done. Towards later episodes, we saw that this overarching main theme could represent everyone.
The kingdom is on the brink of civil war as the first season draws to a close. Can you talk about any of the themes or clues we'll hear in this Sunday's finale? Will the piano return?
[Laughs] I'm not sure what I can say, but it's going to be an epic finale. I think it's really, really great. I'm trying to think if there's a piano in there. I don't remember, actually.
A few years ago you created the "game of thrones" Live Concert Experience and travel around the world playing the sounds of Westeros. Do you plan to develop a "Dragon House" live show?
Maybe, but it's a bit too early to tell. On "Game of Thrones," we didn't actually tour until season 6. [HOTD] is still in its first season, but there is certainly a lot of material; it could definitely fill a gig. And I loved those concerts.
If my schedule allows, I'm more than happy to tour again as it was very special to connect with the audience. I'm always alone in my studio, and being there and seeing the crowd reactions when you play those epic scenes with the music was fantastic.
Meet Sherri Chung, the Composer Shaking Up the Television Academy